I'm over-the-moon with gratitude for the out-of-this-world review of the Exobotany Series on Cafleurebon.com by Senior Editor Lauryn Beer.  You can read all about it here:
http://www.cafleurebon.com/aether-arts-perfumes-specimen-3-review-amber-jobin-exobotany-collection-draw/
 and also excepted below:                                                                March 13, 2019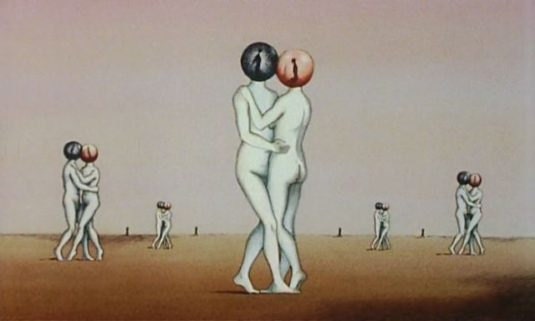 Still from La Planete Sauvage (1973)   Ever since I saw the surreal, creepily beautiful La Planete Sauvage as a child (whose graphics looked like Hieronymus Bosch and Giorgio de Chirico went on a futuristic acid trip together),  I have been both drawn and discomfited by the conception of other  worlds as absent the familiar touchstones of Earth. Without the  olfactory markers of our world's plants, animals and humanity, how would  we perceive another planet?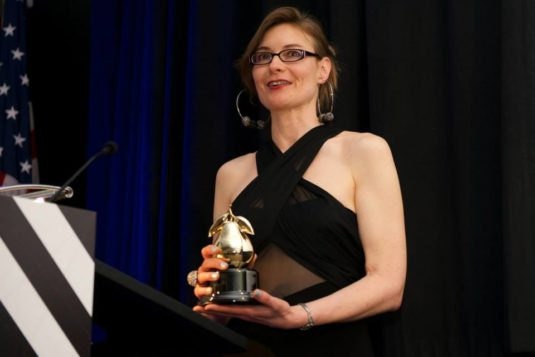 Amber Jobin at the Art and Olfaction Awards accepting her Art and Olfaction award for John Frumm 2014    With her new Exobotany series of three perfumes,  multi award winning artisan  perfumer Amber Jobin offers some ideas.  Aether Arts Perfume Specimen 9, Specimen 3 and Garden on a Far Planet explore what non-carbon-based existences might smell like in a galaxy far, far away.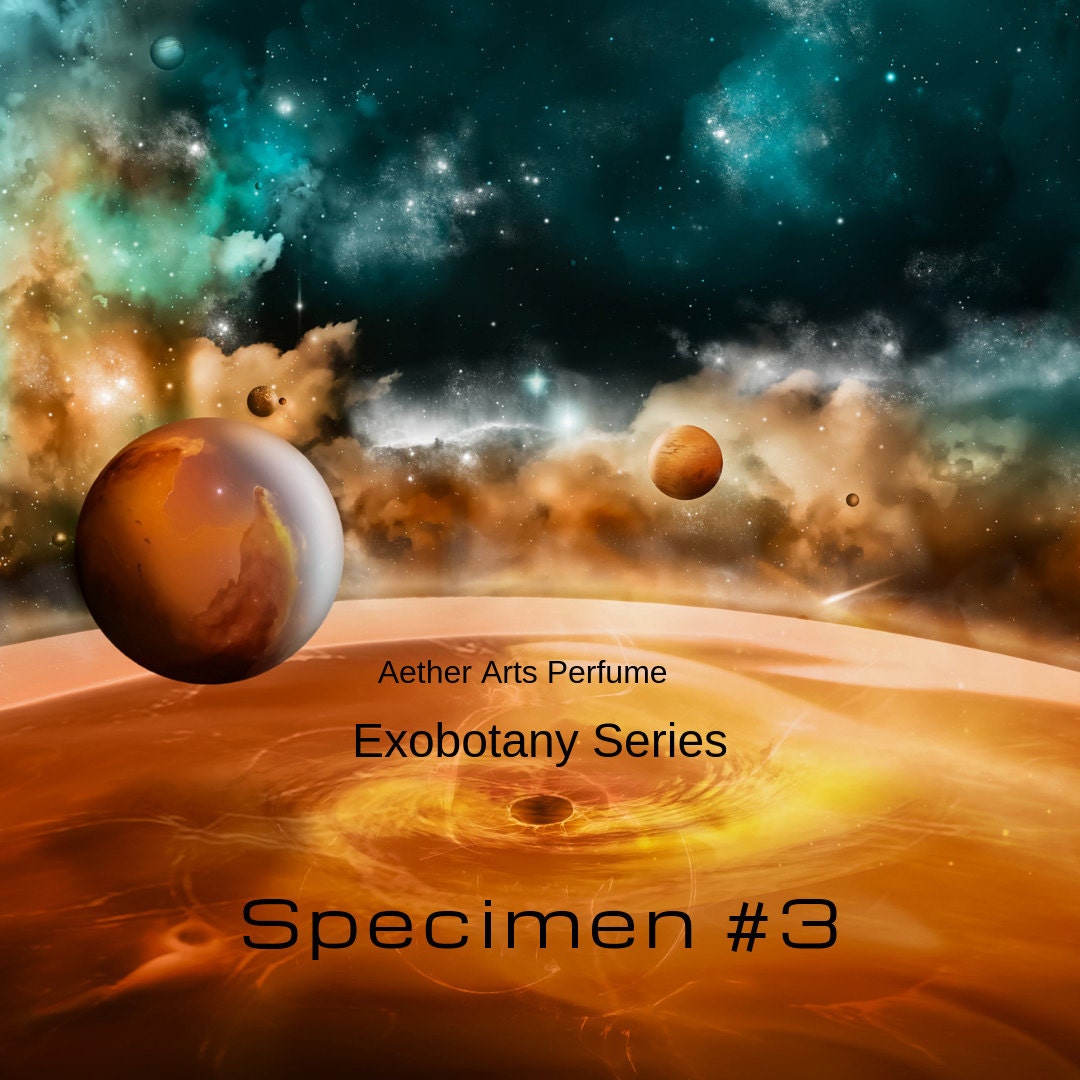 All three fragrances demonstrate coherently thought-out fantasies that  deftly turn familiar fragrance accords sideways. Aether Arts Specimen 9,  which imagines the scents of a planet in the constellation Cygnus, sets mossy, plant-like aromas against a mineral-metallic base. The resulting  fragrance smells like lime and spearmint at times, and then, a second  later, like new chrome. The otherworldly Garden on a Far Planet  is a fresh, ozonic floral that smells like cold air and refrigerated  flowers, a perfect fragrance for Narnia's Jadis.  But it is Specimen 3, intended as a sample from a planetary system in Aquarius, that most  completely creates beauty out of strangeness.  With Specimen 3, Jobin may have created the very first animalic metallic. This fascinating  fragrance begins with pings of metal so bright you can almost smell them  bouncing off each other. These notes soon begin to merge with something  molten and earthy, like melted wax dripping on mulched soil. And  underneath it all, a warm, furry, musky aroma pulses.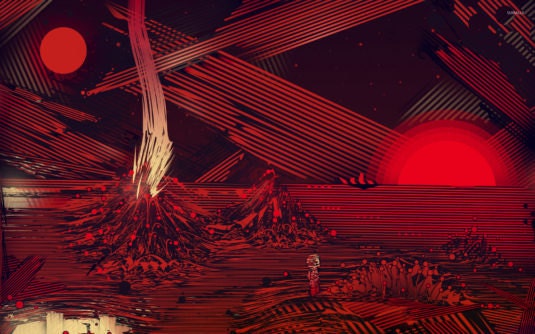 Red planet wallpaper by Rowantroy   
Carnation, that warmest and spiciest of red flowers, opens fully in the  center, but stripped of its characteristic milkiness, so that its  velvety pepperiness is emphasized. Bold tuberose and rose are both  apparent and masked, so that I recognize the fleshy creaminess from the  former but not its heady lushness; the silky richness of rose without  its jammy sweetness. The overall affect of Specimen 3 is at once  familiar and disconcerting – like smelling a new hybrid. I cannot stop  smelling my wrist: it is weird and comforting, alluring and aloof. And, along with its companions, it is completely wearable.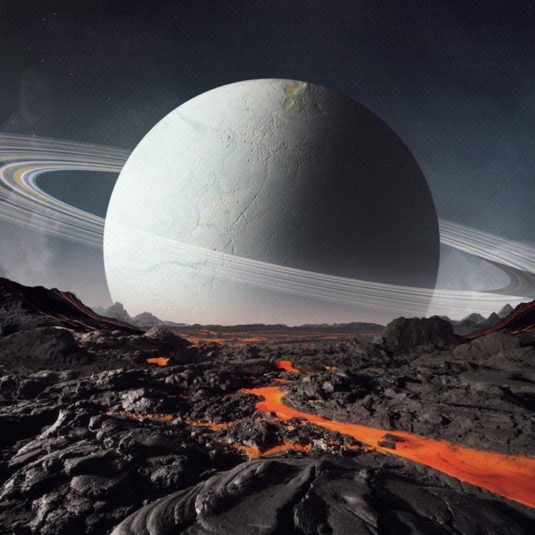 Photo by Adam Makarenko   
Not just for sci-fi nerds, Aether Arts Perfume Exobotany collection is  oddball cool, seductive, and fun. This is the kind of out-of-the-box but  accessible creativity that  artisan perfumery is all about.    Notes for Speicimen3: Jasmine, carnation, rose, tuberose, metallic notes.   Lauryn Beer, Senior Editor    Disclaimer: Samples of Aether Arts Perfume Exobotany collection provided by Aether Arts Perfume. My opinions are my own.        Aether Arts Perfumes Exobotany Collection rollerballs of Specimen 3, Specimen 9, and Garden on a Far Planet   Thanks to the generosity of Amber Jobin and Aether Arts, we  have a set of 2ml rollerball samples of Specimen 3, Specimen 9, and  Garden on a Far Planet for one registered  reader worldwide. To be eligible, please leave a comment saying what  appeals to you about Aether Arts Perfumes Specimen 3 based on Lauryn's  review and whether you have and where you live.  Which appeals to you  the most? Draw closes 3/16/2019.    Follow us on Instagram @cafleurebon @aetherartsperfume     We announce the winners only on our site and on our Facebook page, so like Çafleurebon and use our blog feed … or your dream prize will be just spilled perfume.